ATM Virtual Tourism Investment Forum Summary
3 June 2020, Dubai - ATM Virtual Tourism & Investment Forum was successfully completed with the contribution of 13 distinguish speakers consist of tourism board, investment authorities, experts in destination marketing and representative from academic.
The forum entitled "Restructuring to Attract Sustainable Development and Customers in the New World Order " was co-organized by ITIC and ATM
This virtual forum discussed sustainable investment measures for tourism sector and consider strategies to restore traveler confidence and move forward post-pandemic.
Summary of Forum: How to built trust & confident, reposition and repackage the destinations to attract Investment and visitors. Hygiene, "peace of mind" flexible booking should be consider. Understanding what clients want with involving needs. Strategies recommended: FIT vs Group, Customization, Destination ready etc.
In terms of Chinese market, China tourism is bouncing back currently with 115 million Chinese travel internally during May labor holiday. Tools recommended to connect with Chinese market via Online training and Social Media, explained by Marcus Lee, Welcome China.
Moderated by BBC Presenter and broadcaster Rajan Datar, the forum examine repositioning of business, how to attract investment and the part governments must play in helping the sector recover.
Speakers:
Dr. Taleb Rifai, Chairman ITIC and former Secretary-General UNWTO
Gerald Lawless WTTC Ambassador
HE Issam Kazim CEO – Dubai – Department of Tourism and Commerce Marketing
HE Marwan Bin Jassim Al Sarkal, Chairman Sharjah Investment and Development Authority
HE Khalid Jasim Al Midfa, Chairman, Sharjah Commerce and Tourism Development Authority (SCTDA)
HE Saleh Al Gezeiry, Director General for Ajman Tourism
Mr. Majed M. Alghanim, Managing Director, Ministry of Investment, Saudi Arabia
Mr. Nicolas Mayer, PWC Managing Partner, Global Center of Excellence Tourism & Hospitality
Dr. Marcus Lee, Chairman of Association of SME Business owners in China
Dr. Abed Al-Razzaq Arabiyat, Managing Director, Jordan Tourism Board
Mr. Haitham Mattar, Senior Advisor to the Saudi Ministry of Tourism
Mr. Ben Lock, Director, Edelman
Prof. Dimitrious Buhalis, University of Bournemouth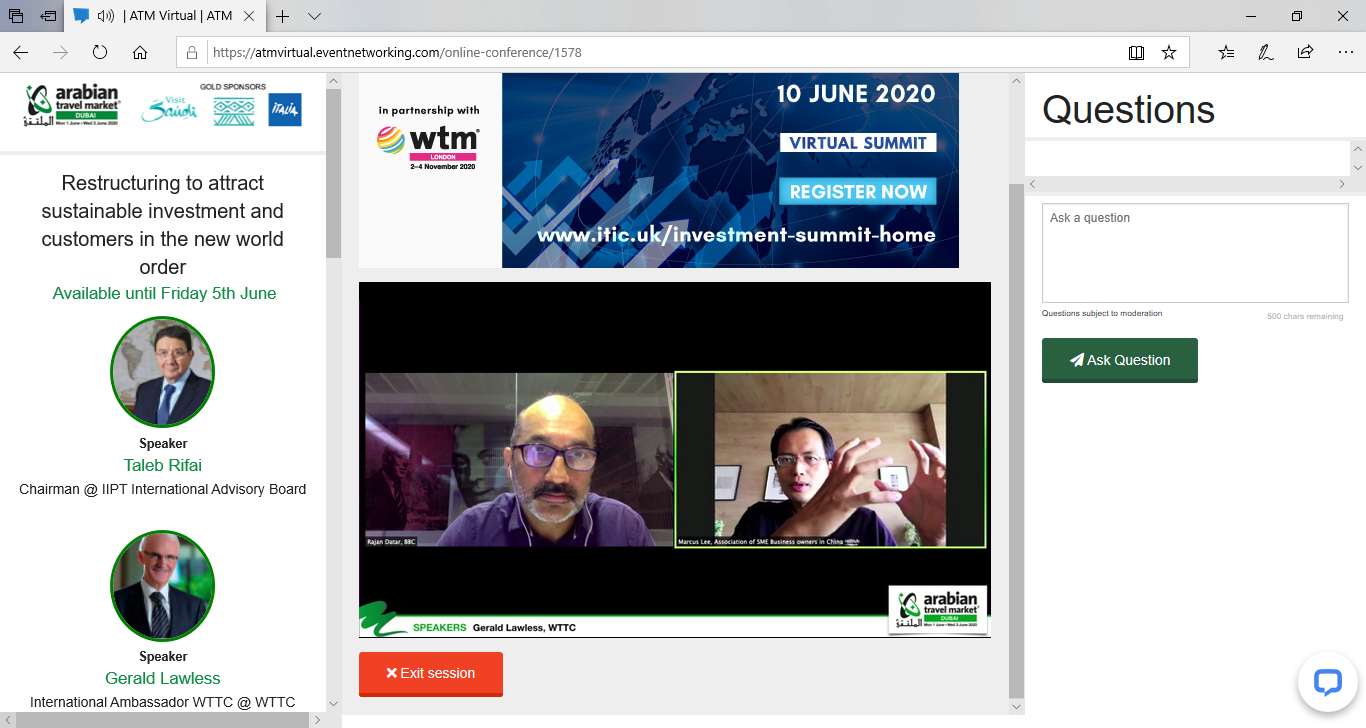 Photo: Screenshot of ATM Virtual Tourism & Investment Forum: Marcus Lee answering questions from BBC Presenter and broadcaster Rajan Datar