How Chinese plan their first trip after Covid19
According to recent Mckinsey report, as China economy emerges from the engendered by coronavirus containment measures, it is important to understand how long it will take for consumers to regain the confidence to leave their homes for leisure travel. With this in mind, we surveyed 1,600 travelers in eight Chinese cities about their attitudes to leaving home for leisure, as the first wave of a broader COVID-19 Travel Sentiment Survey.
The rebound in leisure travel sentiment has so far been conservative: 13 percent of travelers report that they plan to take a trip in the next three months. Intracity leisure trips are more popular, with slightly more than a third of respondents expecting to increase local leisure trips in the next month. Most travelers will continue to stay close to home; less than 5 percent expect to increase their overnight domestic leisure trips.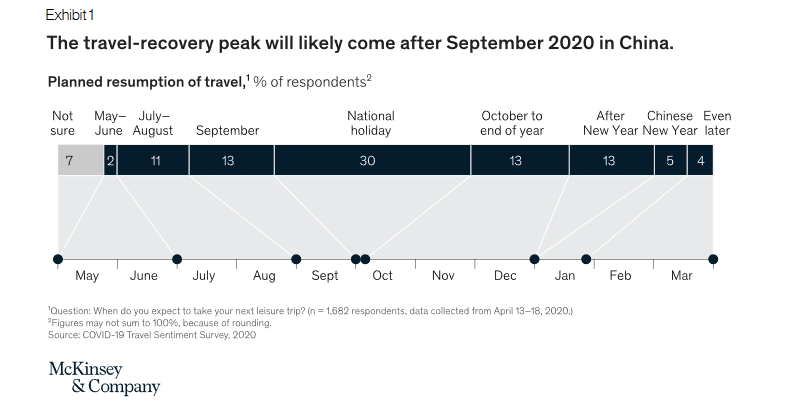 Key insight:
Most travelers expect to make their next leisure trip between September and October, with a noticeable uptick around the National Day holiday. Expectations of future leisure travel are fairly evenly distributed around the National Day, with about 13 percent of travelers expecting to travel over the summer for the first time, and 56 percent of travelers in the September–October time frame.