WTM Tourism Investment Summit summary
November 12, London - World Travel Market, WTM Virtual was successfully completed on November 13 November, 2020, offering delegates the chance to arrange one-to-one virtual meetings to do business, attend conference sessions and roundtables, take part in speed networking and more. WTM virtual originally meant for November 9-11, but due to popular demand, was extended to allows more meetings to be completed.
ITIC summit
which will be held on
10th November
is the single largest forum during WTM with a theme on
"Invest, Finance and Rebuild the Travel and Tourism Industry.
The event is held in partnership between ITIC and WTM.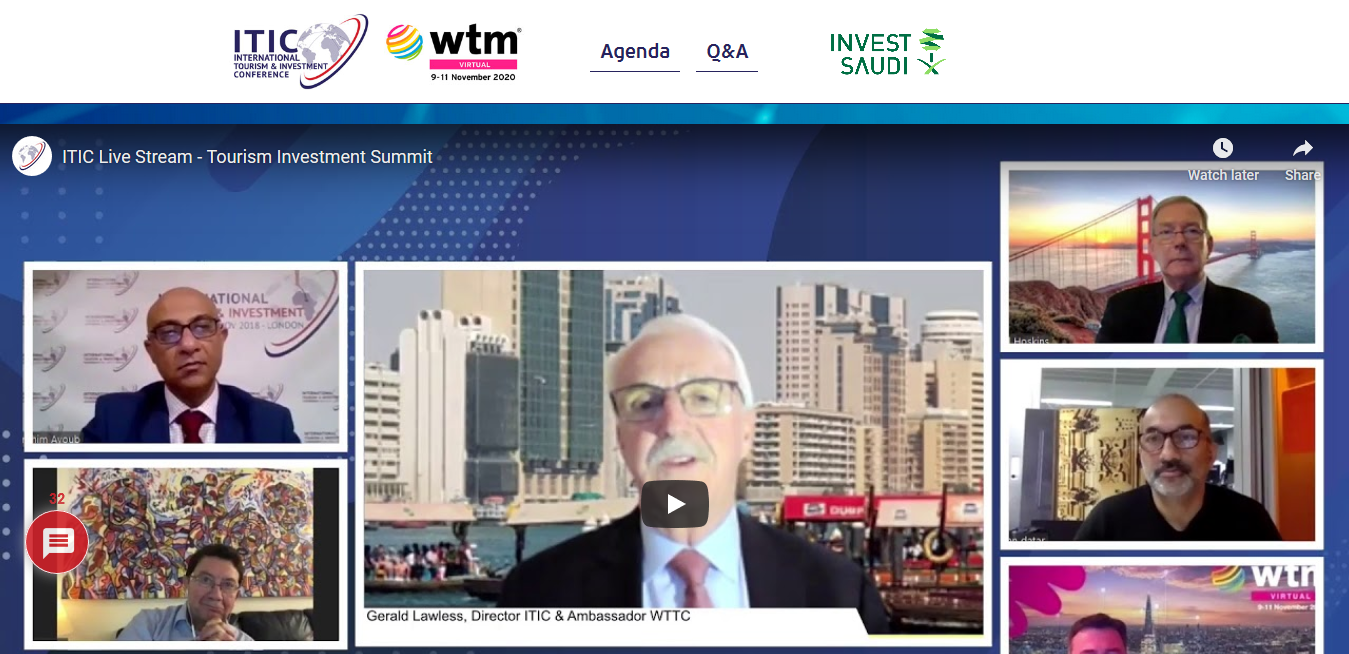 The summit was contributed by 45 distinguish speakers including:
- Dr. Taleb Rifai, Chairman of ITIC and UNWTO former Secretary General
- WTTC President Mrs. Gloria Guevara
- Jordan Tourism Minister Hon. Nayef Al-Fayez
- South Africa Tourism Minister Hon. Mmamoloko Kubayi-Ngubane
- Kenya Tourism Cabinet Secretary Hon. Najib Balala
- Jamaica Tourism Minister Hon. Edmund Bartlett
- Emirates Airline President Sir Tim Clark
- Sharjah Investment Authority Chairman H.E Marwan Bin Jassim Al Sarkal
- China SME Business Owners Association Chairman Marcus Lee
and many more.
Ian Goldin, Professor of Globalisation and Development at Oxford University, said the world would see a decline of -6 percent this year, with the UK at -10 percent, France and Spain at -11 percent to -12 percent and the US at -7 percent, but he expects to see a rebound next year
Dr Taleb Rifai, Chairman of ITIC & former Secretary-General UNWTO said:"This crisis has taught us that we have to travel very, very responsibly. The idea of over tourism, which was so prevalent before will disappear, I'm sure. Governments were so preoccupied with growth and business they didn't listen to this. Travel is going to come back very strongly, but it will come back in a new way."
Sir Tim Clark explained how the carrier is offering COVID insurance for passengers, which will cover their medical expenses, as well as changing emphasis from flying passengers to flying medical equipment and PPE around the globe and is looking at flying the vaccine to different parts of the world when it is approved for global use.
Marcus Lee
shared the inconvenient facts that China is now World's largest Economy, according to IMF 2020 Economic Outlook report. He cited case studies on what it takes for a successful strategy for China Investment attraction including having a dedicated present. In terms of tourism, he share 8 strategies at the end of his presentation including a timely online strategy, E-learning etc.
Simon Vincent, President Hilton, EMEA, speaking on hotel's perspective, said leisure business started to return in Q3 adding: "There is clearly a lot of pent-up demand, but travellers need confidence."